The Invisible Woman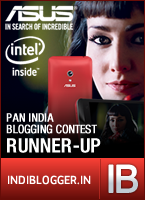 Mr Sharma flaunts his phone. With its 11 megapixel camera, he is trying to click a winning picture for National Geographic Annual Photo contest. I know for sure, he will never succeed. Don't think I feel jealous, I know Ms Kapoor's phone is better than his. Her phone camera doesn't shake, not even when you play, 'Shake it like Shammi.' It clicks crystal clear pictures, performs in low light, is always in focus and smartly removes the unwanted. And here's her secret, all her Facebook photos are uploaded after using the 'beautification' function on her phone. Clever, huh! No wonder, she is calm like a Zen with her sleek buddy.
But look at my phone, poor thing, just helps me to connect with the world. It's high time I shop for something better. Something which will put all other phones to shame, is upbeat like Ms Kapoor's ZenFone and has a superpower of my choice. Taking a cue from ZenFone's Smart Remove feature, I want my phone to have the Superpower of Invisibility. Turn tables, rather than removing the unwanted people from a picture or your life, how about your phone making you invisible when you want to. Pretty cool, isn't it? Think about it, just turn the Invisibility feature on and voila, you escape from all the unwanted things. You can attend a party you are not invited to, sneak into a room to listen some gossip and my personal favorite - scare people by holding candle in the night. Totally spooky!
Now, with the Invisibility superpower I will do what no other man has done before. Sorry, no woman has done before. A man has done that before, remember Mr India? For starters, I could see what people do behind my back. Does the bai clean the spot I asked her to? Does my husband ogle at a hot chick? Is my friend's new nanny good with her kids in her absence? Well, I will be the hidden camera many wish to install but I will be better... I will catch all these cunning souls red handed. You can't imagine how people behave when they think no one is watching them. Will catch those friends who avoid my calls, even when they are totally free. Sure, I will have my dollops of fun too. I will see what others can't see when they are gone.
Gotcha, see who is avoiding whom!
My next mission will be to hangout at those places where I can't afford to be. The up-scale lounge in airports, fashion shows, celebrity weddings and the list is endless. Trust me, this is will reap many benefits. Not only I will get luxury at zero expense, I will also click pictures and post on my blog. Exclusive celebrity pictures on my blog, can you imagine the traffic it will generate? Only thinking about it sets my adrenaline high.
I will do what others can't afford to do.
Wait, how can I forget to savor the taste of my own superpower? Imagine, having a cake and not eating it too. Well, I will not commit any such mistake. I will dig my superpower for my own amusement and do things that I desire to do in public for a long long time. I will dance in a party. Why, you ask? I can dance in a party without being invisible. Well, ladies and gentlemen, if you've ever seen me dancing, you will not be asking this question. To cut the long story short - Either I have to be invisible while dancing or I dance normally and everyone turns a blind eye towards me. Yes, I am that bad. So with superpower of invisibility - I will do what I can't do when others are around.
Look closely, that's yours truly in the box, in Invisible Mode

Voltaire said, 'With great power comes great responsibility', I feel I will do my bit for the society, like all other superheros. Nabbing a crook when he is manipulating thinking no one is watching him. Stopping a pervert from touching a girl standing next to him in a crowded Mumbai train, who feels he will never be noticed in a crowd. Kicking that coward man who feels it's his right to tease a girl who is walking back home alone after work. Grabbing all those who turn nasty when they feel no one will ever know. I can look from every possible angle, just tilt my head and spot the what someone is trying to hide. Yes, I will do what others want to do - stopping those who take advantage of opportunity to hurt others, thinking they can get away with that.
Looking from all angles, nothing is hidden anymore
My Superpower of Invisibility will not only make my life interesting but also help me in doing a bit towards the society. I know, I know, I will have fun doing all that. But alas, this is still a far fetched fantasy and I seriously need a better phone. Till technology answers my dreams, I think I will settle for Ms Kapoor's Zenfone. It has 3D, dual sim, gorgeous display, clicks high resolution selfies, can be operated even when you are wearing gloves, comes with gorgeous accessories and has amazing 'Do it Later' feature for lazy me. Wait, it has an even better camera than Mr Sharma's phone - 13 Megapixel, that too in HD. Next time you see a stunning picture along with my poems, you know which camera phone I've used to capture it. Now, without wasting any more time, let me call my husband so that I can hold this 'Incredible Phone' in my hands.
*Written for 'In Search of Incredible' campaign, sponsored by
Asus.com

.
**Image Credit - Asus ZenFone