Not only for Men, Ladies let's Transform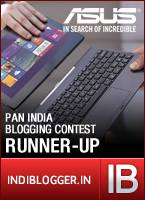 'Whoa, it looks awesome!
' my exact words when I set eyes on my husband's IdeaPad Yoga.
'Yeah,'
and he rotated it 360 degrees to add fuel to the charcoals of jealousy. He could flip and use it as a tablet. Boy! that made me boil with envy.
'What if I could trade something that fun for my laptop?'
OR something better than that to make him envious. Well, dream
huh
? Nah, the technology fairy just answered my wish -
ASUS Transformer Book T100
is here to make even my husband jealous. When I saw it's commercial, all I did was dreaming about holding this beauty in my hands. And, I even started creating list of things I would do with it anywhere, anytime.
For starters, I could
blog from anywhere
. Laptop is too big to carry while commuting or travelling and phone is too small. A perfect answer to this problem is a convertible laptop, just
make it a tablet when you are not working on a table.
Fancy that! Write and make your own images and publish. Well, a dream come true for any blogger. With
Intel Atom Quad Core Processor
, everything runs pretty smoothly on it. But here's the best part - It comes with pre-installed
MS Office and Student 2013
. We can write stories on word, make pictures and complete presentation on PowerPoint, unlike my husband's Ideapad, he bought MS Office separately,
you know!
Now, time to reveal a secret, I am a little addicted to Facebook but not a big fan of using it on mobile, I prefer looking at my friends' pictures in bigger sizes. With T100 in my hands, I can
connect with family and friends on Facebook
and Twitter and
share some wisdom with them
, while I am on the move. I know, this will make me more addicted and I will be hooked to the device for longer time but,
why not?
A little fun in our busy lives is all we want. I promise, I will be more entertaining that this...
Nothing hooks you like
Music
while we are on the move. How about storing all the music at one place. Since T100 is compact, portable with long battery life, create playlist of your favorite songs and listen to it non-stop on a road trip or while you are waiting at the airport. It has instant access to
Windows Store and Xbox Live,
which guarantees wholesome entertainment. We can buy the latest albums and download games instantly. I am thinking of playing games on it too. I mean when you are really bored and have a mean machine at your disposal, why not sweat some action!
My secret desire with this device is to look cool and make people jealous. It looks rich and smooth, and with the glossy circles on it, it will definitely attract attention. I can live under reflected glory, you see. I need not flip it, I can detach it. With a press of a button, I can make it a portable device. Yes, you read it right, no extra baggage. Keep the keyboard in the bag and work on the tablet and when you need the keyword for detailed professional work, just attach it back. And no need to worry about the battery, it can work for 11 hours with continuous browsing. I bet, even your boss can't work that many hours continuously. Also, it has soft and comfortable rubber grip, so there is no fear that it will skid from your hands.
For the lovely ladies out there, who love to be stylish, this baby can fit in your purse. So,
good things actually come in small packages and are power packed too.
For some serious planning, since it has
Windows 8.1,
we can explore all the cool apps. From analyzing the trends of stock market to checking weather, from checking news to finding spot for my next trip; yes, this all can be done without goggling, with the help to pre-loaded apps. And, considering our habit to getting value for every penny spent,
T100 is fairly priced
. We are literally getting two devices at the price of one. It's totally worth our money. Ladies why wait, it's not only for men, so let's transform!